Building a security team is a necessity for companies of all industries and sizes. Choosing the right person for the job is therefore an important task, and testing the candidate's domain knowledge is a key part of the recruitment process.
It is common for each organization to put together its own set of questions for each role.
Today Cynet launches the Cybersecurity Skill Tests website to optimize the hiring process with an automated online questionnaire for each of these positions.
Cynet has put together an extensive pool of questions with hundreds of specific questions for the 6 leading cybersecurity positions (see below) that cover all aspects of each selected role.
A selection algorithm is used to generate a set of 25 questions of increasing difficulty that affect all important areas of knowledge of each candidate's position.
No two questionnaires are the same to ensure the reliability of the answers.
How does it work in practice?
After creating an account on the Cybersecurity Candidates Questionnaires website, the CISO – or anyone responsible for hiring security experts – can insert the candidate's name and email address into the user interface. The questionnaire will be sent directly to the candidate via email.
Each candidate must answer all 25 questions. Once the candidate has submitted all the answers, the results (both the number of points and the time it took to answer them) are displayed in the recruiter's dashboard so that he can quickly shortlist the best performers.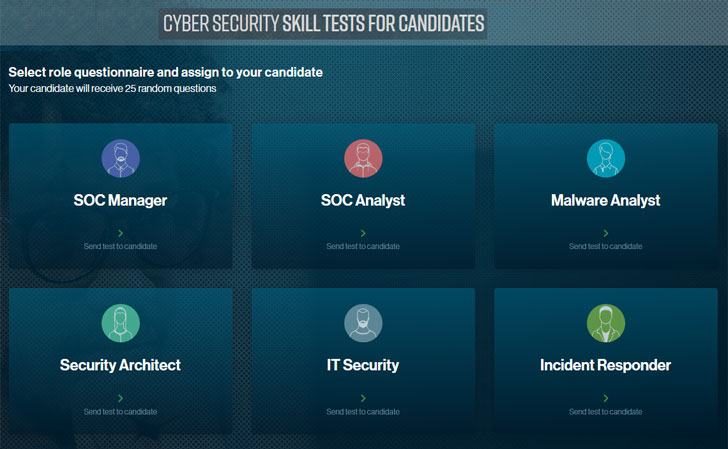 The Cybersecurity Skill Tests website contains knowledge questions about the following positions:
SOC Manager – responsible for setting up and monitoring workflows for monitoring, managing and responding to security events. Also ensure SLA compliance, process compliance, and process improvisation to achieve operational goals.
SOC Analyst – responsible for initial warning, immediate containment, investigation, management of corrective actions and proactive detection of hidden threats.
Malware Analyst – responsible for investigating detected malware through reverse engineering, static and dynamic analysis, etc., and provides insight into the types of threats that target the company.
Security Architect – responsible for designing, building, testing and implementing security systems within a company's IT network to protect both business and customer data.
IT security – responsible for IT and basic cybersecurity policies and standards. This position would be in demand for companies that need security skills in their teams, but cannot afford a dedicated security position.
Incident Responder – Responsible for the entire operational cycle from the first suspicion of a violation and the first steps of the investigation to the forensic investigation, uncovering the scope and root cause of the incident to final remedial and recovery measures.

Do you have candidates for one of these positions? Simply create an account here on the Cybersecurity Skills Tests website and test the candidates.